Daev (Rachel) Knieff, Massage Therapist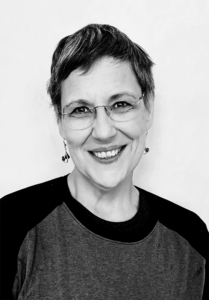 Rachel Knieff, who goes by Daev, is a board-certified massage therapist (BCTMB) and Certified Neuromuscular Therapist (NMT). She has been a practicing massage therapist since 2015 when she earned her associate's degree in massage therapy from Northwestern Health Sciences University. Daev has certificates in Lymphatic Massage, Orthopedic cupping and Neuromuscular Therapy. She continues to take additional continuing education while being actively mentored by Rachel Romanelli.
Daev brings a deep understanding of healing to her practice. She graduated from Hamline University with a bachelor's degree in art and psychology in 1984, planning to provide art therapy to people dealing with traumatic brain injury. Instead, she changed direction and moved into a series of diverse careers, before deciding to pursue massage.
While Daev does treat people who have experienced traumatic injuries, her training enables her to help people experiencing a wide range of issues, including sudden physical trauma, terminal illness, environmental injury, autoimmune disease and post-surgical problems.
Over the years her clients have included a cowboy, an ultimate fighter and several professional body builders. Her modalities include Swedish massage, trigger point therapy, neuromuscular therapy, myofascial release, lymphatic drainage and orthopedic cupping. This broad range of styles makes her well equipped to provide customized care to all of her patients.
Daev's philosophy is simple. She believes that the body is designed to adapt, and those adaptations can lead to dysfunction, causing pain and the release of stress hormones. Her mission is to help clients regain balance and well-being.